Future VIC Surface Hydrology Dataset
The VIC-MACA-Livneh hydrologic dataset covers the Northwest US at a 6-7-km spatial resolution. This dataset was produced by running the Variable Infiltration Capacity (VIC) hydrology model with climate forcings from the downscaled MACAv2-Livneh dataset for 10 models and 2 future climate scenarios to produce future projections of hydrology outputs such as snow water equivalent(SWE), soil moisture and runoff.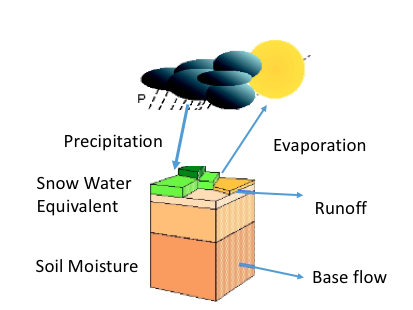 Future VIC Stream Routing Dataset
This dataset represents future projections of non-regulated streamflows at key stream locations in the Western United States. This dataset was generated from the non-regulated stream routing of VIC hydrologic outputs which were forced with MACAv2-LIVNEH statistical downscaling of the CMIP5 global climate model outputs. A river routing scheme (Lohmann et al., 1998) was used to connect runoff from the upstream watershed to simulate river flow at various locations. Some of the routed streamflows are bias corrected utilizing a 'no regulation-no irrigation(NRNI) streamflow observation dataset, which removes the effects of reservoir operations and irrigation withdrawals.